Managing Disk Space in Windows
Over the past two years the SSCC allocated some 400GB of project disk space, compared to 75GB for the prior two-year period. We currently have enough space to meet the research needs of our members, but this disk space was quite costly. Reducing the growth rate of disk usage in order to make that space last as long as possible is a high priority for the SSCC.
Individual members can do their part by managing the files in their home and project directories. Most members have files that can simply be deleted, and others can be archived or compressed. This article will discuss Windows tools for managing your disk space. For managing Linux files, see Managing Disk Space in Linux.
Viewing Your Files
The first task is identifying what files you have and which ones are likely candidates for removal. Double-click on the My Computer icon, double-click the drive or folder you wish to examine, and click View, Details. You can then click on a column heading to sort by it--Size is most likely to be useful for our purposes.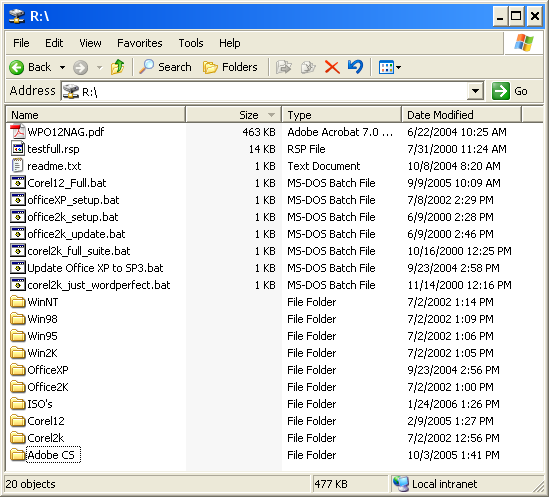 In this example you can see immediately see that the only file really worth worrying about is WPO12NAG.pdf (remember 1 GB is about 1,000 MB or 1,000,000 KB, so a 1KB file is insignificant).
Unfortunately this doesn't tell you anything about the size of the folders. One solution is to open them and look at the tables, but to see the size of an entire folder at once right-click on it and choose Properties.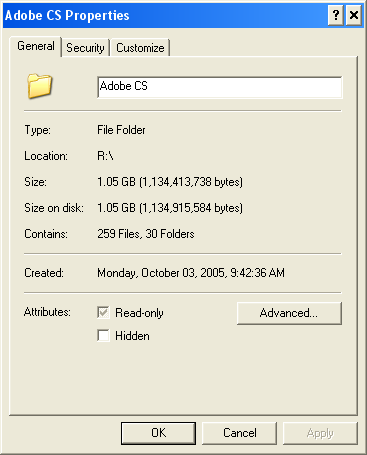 This folder, at over a gigabyte is definitely worth a closer look. Since we're just looking to see which folders deserve further examination, the distinction between Size and Size on disk is unimportant.
Options for Large Files
Once you've identified the large files in your home or project directory you can evaluate what to do with them. Here are some questions you might ask yourself:
Is this the only copy of this file?
Have I used this file recently?
Am I likely to need this file in the future?
If the answer to all three questions is "no" then the file can probably be deleted. Deleting files you no longer need is the best way to save disk space and is very easy to do. Simply select the file and press Delete.
On the other hand, if you think you may need the file sometime in the future but don't need it right now, archiving it on a CD or DVD may be the best solution. You can request that SSCC staff archive files for you by visiting our archive request page. If you'd prefer to do it yourself, the SSCC makes DVD writers available in 2470 and 4218 Sewell Social Science Building. The student operator in 4218 will be happy to assist you in using them. For vital files we suggest you make two or even three copies and store them in separate locations.
If you use the file occasionally but not on a regular basis, consider compressing it. That way it remains on the network and you can have it ready for use again in a matter of minutes, but it takes up less disk space--in most cases much less. In Windows XP, simply right-click on the file, choose Send to, and then Compressed (zipped) Folder. This will create a zipped copy of the file in the same directory, and you can then delete the original. To uncompress the file so you can use it again, double-click on the file, then choose File, Extract All. For earlier versions of Windows, Winzip or one of its many free alternatives can do the same thing very easily.
Do not make copies of standard data files archived by CDE or other agencies or individuals. If you are working as a group, keep files needed by everyone in the group in a shared location rather than each member making their own copy.
Using Temporary Space
One easy way to make sure you don't forget to delete a file when you're done with it is to put it in temporary space. In Windows, files stored on the Y: drive are deleted after 30 days, but you are welcome to use as much space as you need during that time--just make yourself a folder there. If you store files you'll only need briefly on Y:, you'll never have you worry about going back to delete them. Keep in mind that Y: is not backed up, and that it's completely public. This has its advantages--you can easily put files you need to share with others on the Y: drive rather than sending them as an email attachment.
Last Revised: 5/10/2006