Using SSCC Network Disk Space from Personal Linux Computers
This article will show you how to use the SSCC's network disk space from your personal computer running Linux. The details and pictures apply to Ubuntu 10.4, but the general procedure should work on any desktop-oriented Linux distribution.
Click on Places, then Connect to Server. Set the Service type to Windows share. The Server, Share and Folder will depend on what you want to connect to--see the pictures for some of the most common choices or consult the table below for more options. Enter your SSCC username in User Name and primo in Domain.
Windows Project Space

Windows Home Directory

Linux Project Space

Click Connect and you'll be asked for your SSCC password. If your password contains any special characters (&, @, etc.) type a backslash (\) before that character. You can choose whether to save the password or not.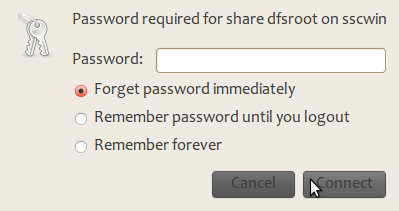 SSCC Disk Space Locations
Location
Server
Share
Folder
Notes
Windows Home Directory
sscwin
dfsroot
users/

username

drive
Linux Home Directory
sscunix
username
drive
Windows Project Directories
sscwin
dfsroot
project or project/

directory

drive
Linux Project Directories
sscunix
project
optional

directory

drive
Windows Temporary Space
sscwin
dfsroot
Temp30days or Temp30days/

username

drive. All files deleted after 30 days
Linux Temporary Space
sscunix
temp30days
optional

username

All files deleted after 30 days
Web sites of SSCC member agencies
sscunix
web
optional

website
If you only use one project directory, you can connect to it directly by putting its full name in the Folder box. If you use more than one, do not specify a directory and you'll be able to see all of them. If you use temporary space you should be putting your files in a folder with your username, and you can connect to it directly by adding that to the Folder box as well.
Last Revised: 7/20/2010