Using SSCC Printers from Macs
This article will show you how to use printers on the SSCC network from your computer running macOS. If you are trying to print to a departmental photocopier, contact the hosting department for instructions.
If you are not plugged into the wired network in the Sewell Social Science Building, you first need to establish a VPN connection to the SSCC network.
Identify the printer you want to print to. A list of printers managed by SSCC can be found here (you'll need to give your SSCC username and password to access it). If the printer you need is not there, speak with the department that hosts it.
Open the by clicking the Apple icon in the upper left of the screen and choosing .
Click .
Click the button on the lower left to add a printer.
Click .
Change the of the printer to .
Type the (starting with

smb://sscwinnt2.ads.ssc.wisc.edu/

as in the screenshot below, with the rest coming from the list of SSCC printers), and of the printer you want to use.
Click on . If you are connecting to an SSCC printer, choose and be sure to check the box for (i.e. the printer can print on both sides of a page). Otherwise choose the model of the printer you are connecting to.

Click .
The first time you print to the printer you'll be asked for your username and password. Set Connect as: to Registered User, for your Name type your SSCC username and give your SSCC password. Check Remember this password in my keychain and you won't be asked to give it again when you print in the future.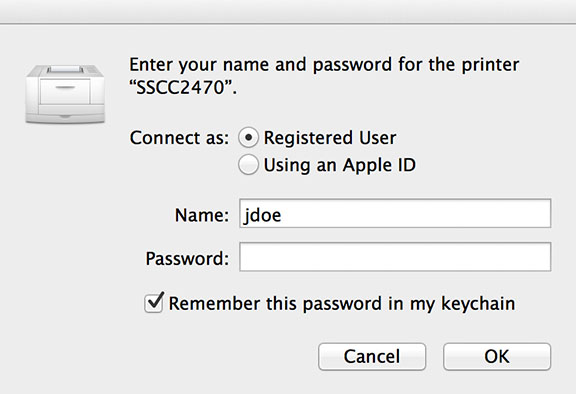 Last Revised: 5/1/2017