Connecting to Your Office Computer Using Remote Desktop
Remote Desktop allows you to connect to your office computer from home or another remote location. The result is similar to logging in to Winstat, though Winstat will generally give you better performance and stability. However, if you have software on your office computer that is not available on Winstat, remote desktop will allow you to use that software from home. Macs can also use Remote Desktop to connect to office computers running Windows (Macs connecting to Macs use Screen Sharing instead). Connecting to your office computer using Remote Desktop is a great back-up plan in case you can't log in to Winstat, and we suggest all SSCC members learn how to do so.
If you have a Remote Desktop connection already set up that requires you start VPN before using it, you can modify it so VPN is no longer required. In Windows, open the connection then click on Options as described here. On a Mac, edit your connection and then add a new gateway as described here.
Setting Up Your Office Computer to Allow Remote Desktop
The first step is to set up your office computer so it will accept Remote Desktop connections.
Click the Windows logo button, right-click on Computer (to the right) and choose Properties. Then click on Remote Settings on the left and look at the choices under Remote Desktop.
If you only anticipate connecting to your computer from other computers running Windows 7 or later, choose Allow connections only from computers running Remote Desktop with Network Level Authentication. However, if you want to be able to connect to your computer from computers running OS X or Linux, choose Allow connections from computers running any version of Remote Desktop. Note that if you choose the more restrictive setting you cannot change it without either coming to your office or finding a computer running Windows 7 or later to connect from.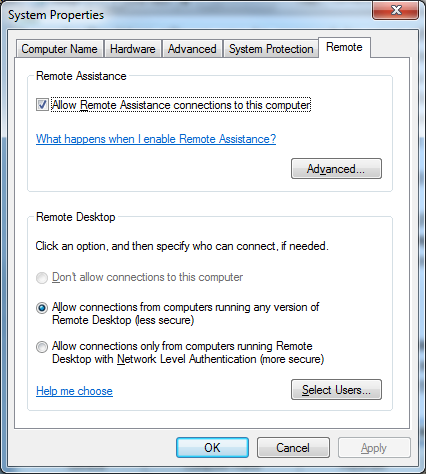 Next click on the Computer Name tab and note the full name of your computer (in the picture below it is citius.ads.ssc.wisc.edu—they are not case sensitive). You'll need it when you're ready to connect.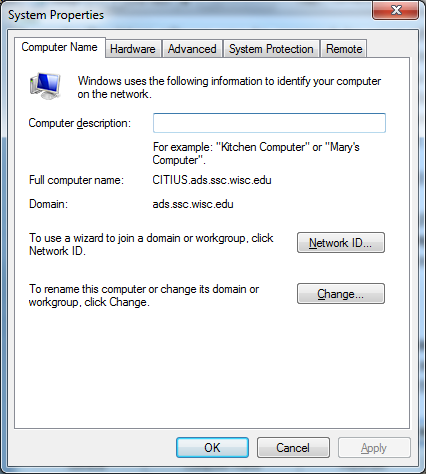 Connecting to Your Office Computer
Windows
Click the Windows logo button, All Programs, Accessories and Remote Desktop Connection.
You'll then need to type in the name of your office computer.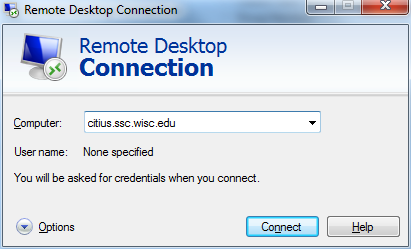 Select Show Options from the lower right hand corner.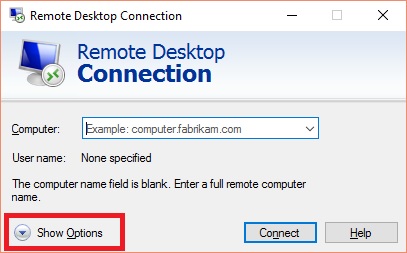 Select the Advanced tab, then in the Connect from anywhere section click the Settings button.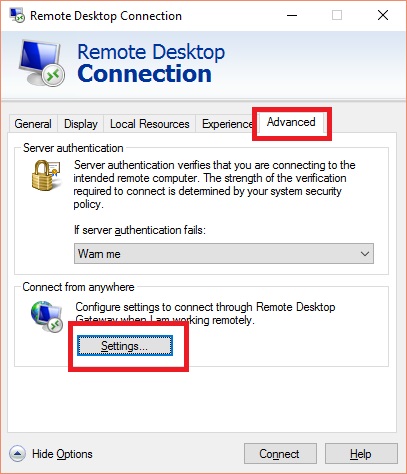 Select Use these RD Gateway server serttings and in the Server name box enter rdg.ssc.wisc.edu. Under Login settings, check the box for Use my RD Gateway credentials for the remote computer and click OK.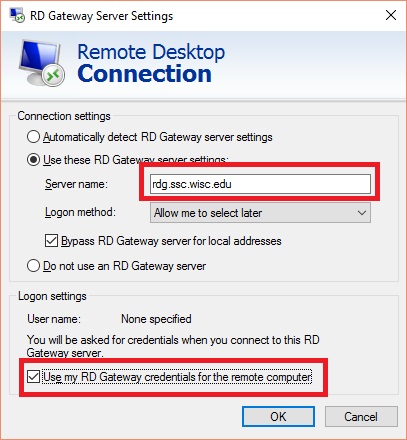 You are then ready to connect to your remote computer.
Once you connect, you'll see that the remote connection takes over your screen and you can almost forget that you're not sitting in your office. If you want to go back to using the computer you're connecting from, click on the minimize button in the toolbar across the top of the screen. When you're done, log out of your office computer as usual.
Mac
Remote Desktop Connection software can be downloaded and installed for free from the Mac App Store. Once installed, it can be found in the Applications folder.
To set up your connection, click New in the upper left hand corner. Enter a name for the connection (ex. "My SSCC Desktop"), and the name of your office computer. Enter the name of your office computer and your SSCC credentials (using primo\username in the User Name field). From the Gateway dropdown box select Add Gateway to open the Gateway Preferences.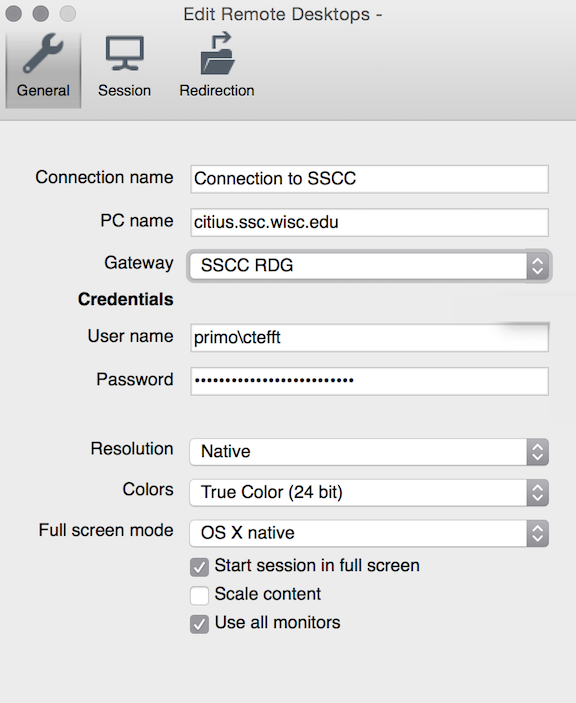 To add a new gateway, click the + icon in the lower left hand corner. In the Gateway Name field enter SSCC RDG. In Server name enter rdg.ssc.wisc.edu. Enter your SSCC username (primo\username) and password, then close the Preferences window.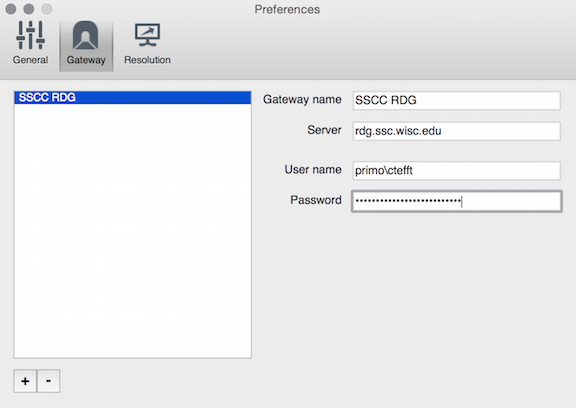 Select the newly created gateway from the drop down menu and then close the Edit Remote Desktops window. You can now select the connection and Start to begin your remote desktop session.
Last Revised: 1/13/2016