Installing New Software using Software Center
If you use a Windows PC that logs into the SSCC's PRIMO domain, Software Center can easily install new software on your PC. Available software includes Microsoft Office 2016, Adobe Acrobat and Dreamweaver, and other software which has been licensed by the University. This article will show you how.
Click on the Windows logo or Start button, All Programs, Microsoft System Center 2012 R2, Configuration Manager, and then Software Center. Alternatively, start typing software center in the search box and then click on it once it appears. (If Software Center does not appear contact the Help Desk.)
You'll be shown a list of software that is available: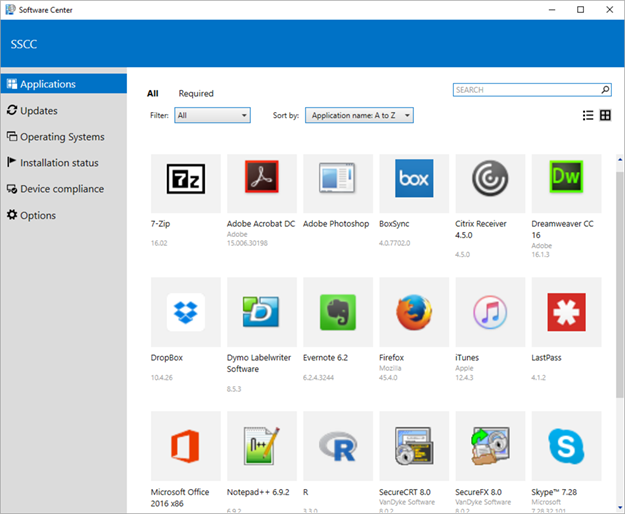 Click on the program you wish to install, then click the Install button. Software Center will install your new software automatically. If the installation process requires rebooting your computer, Software Center will prompt you to do so. Once the Status of the program changes to Installed you can close Software Center and use the program. If you have to reboot, the program will be ready for use after rebooting.
The first time you use Office 2016 you will be asked to activate it. Just choose to activate over the Internet and the process will be completed automatically.
Last Revised: 10/5/2016