Installing the Refworks Write-N-Cite Plugin for Word
The Refworks Write-N-Cite plugin for Microsoft Word is available on Winstat, but you'll need to install it before using it. To do so, first completely close Word. Then click Start, Programs, Refworks, Install Write-N-Cite Plugin for Word. Click OK in the two dialog boxes that come up, and the plugin will be ready for use.
You can verify that it is installed by starting Word and then clicking the Add-Ins tab. You should see a box for Refworks Write-N-Cite Menu Commands and Write-N-Cite Custom Toolbars.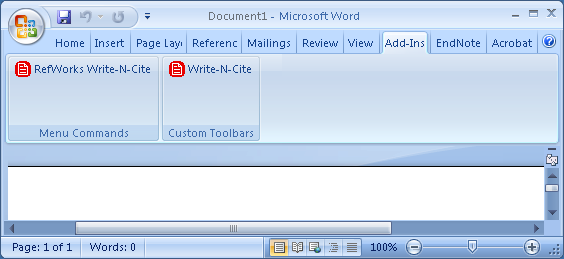 Keep in mind that SSCC staff do not have any expertise with the Write-N-Cite Plugin or Refworks in general and can't answer questions about it.
Last Revised: 11/13/2009